We're pleased to share with you content from this month's Core Plus Aerospace Newsletter. If you're interested in subscribing to updates, click here, and enter your information.
---
Attn Students & Teachers: Digital "Lunch & Learn" Webinar Content Now Available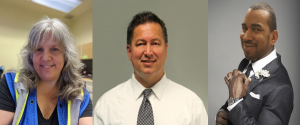 As part of Manufacturing Month, Boeing hosted several virtual "Manufacturing Lunch & Learn" webinars for high school and community college students this October. The Lunch and Learns gave students an inside look at a variety of aerospace career pathways, including mechanical and electrical assembly, aircraft testing and maintenance, mechatronics, and more. At each session, Boeing manufacturing professionals shared their thoughts about key skills needed to be successful and offered advice for students planning their next steps toward a career in manufacturing. The videos are a great resource for students and teachers! Check out the Mechanical and Electrical Assembly
video
, read the highlights on our
blog
, and stay tuned for links to more recordings.
---
More Remote Learning Content Available for Fall/Winter
Thanks to the hard work of a core group of veteran teachers, 10 units of the Core Plus Aerospace curriculum are available to Washington schools for 
remote or hybrid instruction
. The remote learning units focus on topics such as safety, standard operating procedures, materials science, and precision measurement. In recent weeks, more than 60 instructional videos have been added to the content library, along with fact sheets and other learning and teaching tools.
Creed Tremaine Nelson, one of the instructors who adapted these lessons for remote learning, recently shared in The Seattle Times how Core Plus Aerospace students are continuing to build hands-on skills while at home. Mr. Nelson, a teacher at Lindbergh High School in Renton, emphasizes the importance of supporting students' at-home learning to help them stay on track and graduate with options.

If you have questions or would like to request access to the learning content, contact

Angie Mason Smith

, OSPI Core Plus program coordinator.
---
Resources to Help Students Continue Building Skills and Pursue Careers After High School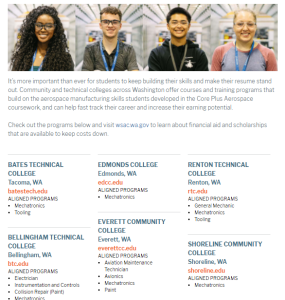 Please help us get the word out about the many post-high school certificate and degree programs that Core Plus Aerospace graduates can pursue after high school.
Check out and share this
resource
, which includes a list of aligned courses and training programs across Washington's community and technical colleges. Through these programs, students can further build skills in areas such as mechatronics, avionics, tooling, aviation maintenance, and more!
---
Checklist for Students Developing High School and Beyond Plans
As students prepare to register for new classes for the next trimester or semester and update their High School and Beyond Plan, our 
checklist
can help them explore opportunities to build hands-on skills in high school and pursue a career in manufacturing.
The year-by-year checklist and video include recommendations for courses to take and clubs to join, ideas for exploring manufacturing careers and college programs, questions students can ask themselves to help plan for their future, and more. Teachers can share the resource with students, and families can use the checklist to guide their student in planning for their future.