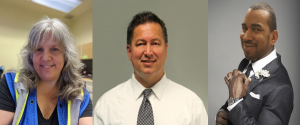 Boeing Workforce Development hosted several virtual "Manufacturing Lunch and Learns" this fall for students and instructors at partner high school and college programs across Washington. The sessions kicked off with a focus on Mechanical and Electrical Assembly. More than 120 students and instructors tuned into the discussion and engaged in a Q&A session with the presenters. We got a chance to attend and are excited to share some of the highlights!
Three Boeing manufacturing professionals shared their career pathways, skills needed in careers related to mechanical and electrical assembly, and their advice for students interested in a career in manufacturing.
New hire instructor Ted Mayer built his manufacturing skills at Sno-Isle TECH Skills Center in Everett, went to electronics school in the military, and received a bachelor's degree at the University of Washington before working in different roles at Boeing. William Rhodes, an aviation maintenance technician inspector at Boeing, said serving in the U.S. Navy was good preparation for the challenges of working on airplanes.
Carla Grant, a new hire instructor, is a former educator who followed her passion at Boeing and now teaches mechanics.
"Be willing to learn and take on new projects," Grant said. "Get to know others and find people who are willing to help you." Students can start building their network while in school by reaching out to their instructors and classmates.
Panelists said that training in manufacturing – such as the hands-on skills delivered through Core Plus Aerospace coursework in high school – shows employers you are interested in and able to learn about mechanical or electrical assembly. Their advice for students interested in a manufacturing career include showing up on time, asking for help, and talking to a mentor.
"Don't be afraid to ask for help when you come into the industry," Rhodes said. "Make sure you find a mentor that can help guide you."
They also noted the importance of being able to communicate and work on a team.
"An open culture is what we have here and how we get things done right," Mayer said. "The more you communicate, the more you learn."
Boeing's Workforce Development team highlighted the importance of the certificate that Core Plus Aerospace students receive after completing the program – a valuable tool that demonstrates students' knowledge of industry-backed skills. Next steps for students include being prepared to talk about their skills, researching Community and Technical Colleges, and updating their resumes.
A recording is available here.