We're pleased to share with you content from this month's Core Plus Aerospace Newsletter. If you're interested in subscribing to updates, click here, and enter your information.
---
NEW: STEP-BY-STEP STUDENT GUIDE TO LAUNCHING A MANUFACTURING CAREER

Are you a high school student wondering how to pursue a career in manufacturing? Or perhaps you're a parent, counselor, or teacher curious about what actions a student can take to explore and pursue a manufacturing career? Wonder no more. This new checklist offers a step-by-step guide from freshman year through high school graduation. It highlights specific actions to take and questions to ask along the way. It starts with work on the High School & Beyond Plan and ends with opening yourself up to any number of post-high school options – including a manufacturing job, an apprenticeship, college, and the military.
With an annual average salary of $87,000 and nearly 300,000 manufacturing jobs, there are exciting and rewarding opportunities in manufacturing right here in Washington state. Download this new checklist and use it to get started, or to help a student or friend get started, toward a career in manufacturing today. Download and share here. 
---
LAST CALL FOR STUDENTS: APPLY FOR THE 2020 CORE PLUS AEROSPACE SUMMER INTERNSHIP
Applications for the 2020 Summer Core Plus Aerospace Internship at Boeing are due on Saturday, Feb. 29. The internship is an excellent way for students to build on their classroom knowledge, learn directly from Boeing trainers, and develop a foundation for successful entry into manufacturing careers and college and training programs. The five-week, paid summer internship program will run from July 10 through August 14 and is open to students at Core Plus Aerospace partner schools. Click here to learn more and apply. 
---
FIND A LOCATION: USE THIS TOOL TO FIND CORE PLUS AEROSPACE PROGRAMS, ADVOCATE FOR MORE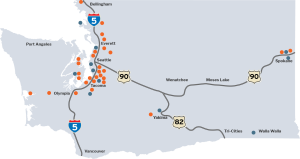 Core Plus Aerospace is offered in 40 high schools and skills centers across Washington, with more on the way. Want to find out where it is offered and if it's available in your community? Or do you want to connect with Core Plus Aerospace teachers to learn more? Use our "Find a Location" tool! The drop-down box allows you to access a full list of current partner schools and search by district to find out what's available in your community. If your school or district doesn't yet offer Core Plus Aerospace or you want to see more programming, please consider using the email tool to check in with your school district and request that the program be offered to students in your community.
As a 2018 survey found, Washington state parents and students agree on the importance of bringing Core Plus Aerospace to more schools statewide. Urging district leaders to offer Core Plus Aerospace could lead to more students having access to hands-on learning, real-world skills, and post-high school opportunities.
---
CORE PLUS AEROSPACE GRADUATE PROFILES: SEAN LOCHRIE & MYLO LANG
We are always excited to share stories from current Core Plus Aerospace students and check in with graduates. Here are some inspiring stories from Shadle Park High School in Spokane and Capital High School in Olympia. Please share!
Sean Lochrie: Learning skills in high school for career success
Building projects with his grandfather sparked Sean Lochrie's love for manufacturing, and Core Plus Aerospace helped turn his passion into a career. Today, the graduate of Shadle Park High School in Spokane works at Boeing as an in-tank mechanic. Sean credits Core Plus Aerospace for teaching him vital skills like teamwork, communication, and taking his ideas from concept to reality.
"My teacher, Mr. Anselmo, did a great job of communicating the many opportunities that we could pursue after graduation," Sean said. "He talked about high-demand, good-paying jobs; college tracks; and apprenticeships. He took us to job sites and did everything possible to give us a feel for what a career in the manufacturing industry would look like… Mr. Anselmo gave me a head start. And now I have a career I love."
Read more of Sean's story, including his advice to students, in the Spokesman-Review.
Mylo Lang: Program leads to career growth, education opportunities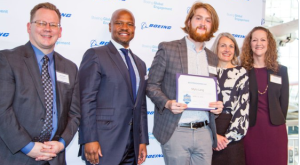 Just months after graduating high school in 2018, Mylo Lang landed a job as an aircraft structures mechanic – a direct result of his proactive approach to career planning. As a student at Capital High School in Olympia, Mylo enrolled in Core Plus Aerospace, led by Career and Technical Education teacher William Murray. Through the program's rigorous courses, Mylo gained real-world manufacturing skills through hands-on experiences with advanced composites, welding, and precision machining.
Mylo has continued to sharpen his manufacturing skills since graduating. While working as a mechanic, Mylo took college courses designed to help him advance in his career. Recently, Mylo completed South Seattle College's CNC (Computer Numerical Control) Machining Program funded through IAM/Boeing Joint Program's Education Assistance. It's clear that Mylo's career will continue to soar as he plans for an engineering degree. Read more.
---
FOR TEACHERS: UPCOMING PROFESSIONAL DEVELOPMENT OPPORTUNITIES
Multiple professional development opportunities for current, new, and prospective aerospace and advanced manufacturing teachers are available in 2020! 
Class offerings are aligned with the Core Plus Aerospace curriculum and AJAC (Aerospace Joint Apprenticeship Committee). Participants can expect skills development for instant classroom use, support from industry professionals focused on teaching relevant skills, and continued connection and collaboration with industry and academic partners. These classes are available free of charge. Thank you to OSPI, Boeing, AJAC and the Center of Excellence in Aerospace and Advanced Manufacturing for their support of these opportunities!
The first session will be held March 11-12 in Wenatchee, ahead of the WITEA conference. It will include classes on precision measurement, machining, LEAN processes, and mechatronics/electrical. Sessions will be split between Eastmont High School in East Wenatchee and Wenatchee Valley Community College. Seating is limited, so register now!
Stay tuned for more information about upcoming trainings, including a July 27-31 Material Science class in Olympia.
---
FOLLOW US ON SOCIAL!
Are you following us on our social media platforms? If not, click below to stay engaged with the Core Plus Aerospace efforts!