We're pleased to share with you content from this month's Core Plus Aerospace Newsletter. If you're interested in subscribing to updates, click here, and enter your information.
---
With the closure of school buildings across Washington because of the pandemic, we want to take a moment to reach out and applaud students, educators, and parents for staying engaged with school and your communities. We are inspired by the continued commitment to learn and grow during this public-health crisis.
Below, we have included activities that students can do from home this month – including exploring online learning content, learning about financial aid, and planning for the future with a Class of 2020 Action Plan and a Core Plus Aerospace checklist that can guide you toward a career in manufacturing. There's also a video contest where students can enter to win $500 just by sharing their thoughts on education and career planning. We hope you all are staying safe, healthy, and hopeful about the future.
---
STUDENTS SHOWCASE MANUFACTURING SKILLS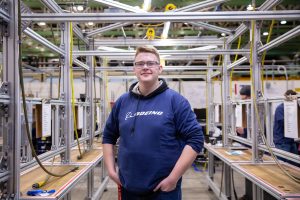 On Feb. 29, 60 Core Plus Aerospace students put their real-world skills to work at the SkillsUSA Washington Manufacturing Assembler Competition. Students from 20 high schools and skills centers across the state participated in the Everett, WA event – twice the number of schools as last year! Hosted by Boeing, the competition featured a hands-on assembly project that tested the skills students have been learning through the Core Plus Aerospace curriculum, such as drilling, riveting and print reading. Competitors also participated in resume reviews and mock interviews.
Congratulations to Christopher Wigestrand from Hazen High School in the Renton School District for winning first place in this year's contest! Jeric Liam of Renton High School was awarded second place and Matthew Oakes of Elma High School earned third place. Congratulations to all the students who participated in this year's SkillsUSA competition! Read competition highlights here. 
---
CHECK OUT FUTURE U.: ONLINE VIDEOS AND LESSONS FOR HANDS-ON LEARNING
Free online videos and standards-aligned STEM lessons are available through FUTURE U., a collaboration between Boeing and Discovery Education. Students can learn about topics like welding and space ergonomics and take virtual field trips to learn about aerospace innovation, sustainability, and more. FUTURE U. provides educators with the tools they need to inspire their students to use creativity, collaboration, persistence and problem-solving to change the world. Geared towards students in grades 6-12, FUTURE U. uses hands-on, experiential learning to ignite excitement and inspire them to become tomorrow's innovators. Learn more here.
---
EXPLORE THE CURRICULUM SPOTLIGHT SERIES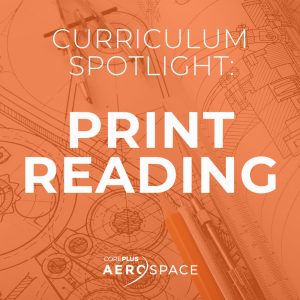 The Curriculum Spotlight series highlights a core instruction unit or skill set delivered through the Core Plus Aerospace curriculum. Our latest Spotlight onPrint Reading dig into what students learn, and how the curriculum connects to Washington state learning standards. Check out all of the Spotlights in the series, digging into other topics like Safety and Riveting, and keep an eye out for more in the weeks ahead. More resources here. 
---
STEP-BY-STEP STUDENT GUIDE TO LAUNCHING A MANUFACTURING CAREER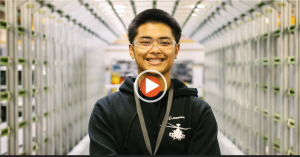 Are you a high school student wondering how to pursue a career in manufacturing? Or perhaps you're a parent, counselor, or teacher curious about what actions a student can take to explore and pursue a manufacturing career and what options are available after high school? School buildings are closed but learning and planning for your future will continue. Our checklist is a good place to start. The step-by-step guide from freshman year through high school graduation highlights specific actions to take and questions to ask along the way. It starts with work on the High School & Beyond Plan and ends with opening yourself up to any number of post-high school options – including a manufacturing job, an apprenticeship, college, and the military.
Download this new checklist and use it to get started or check in on a path toward a career in manufacturing today.
---
CLASS OF 2020: RESOURCES TO HELP YOU KEEP YOUR PLANS ON TRACK!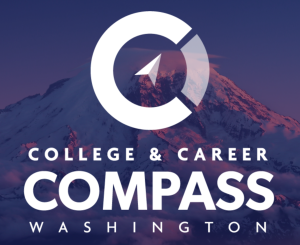 With the closure of Washington school buildings because of the pandemic, applying for college, job training, and/or financial aid can be overwhelming on top of everything else. The Washington Student Achievement Council (WSAC) has an important message for high school seniors: Don't let COVID-19 derail your plans!
The Class of 2020 and other prospective students can learn more about exploring careers and getting financial aid here.
---
#PLANYOURPATHWA STUDENT VIDEO CONTEST ACCEPTING ENTRIES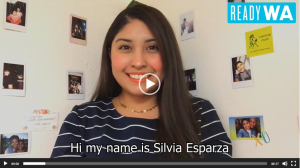 If you are a Washington public high school student (or we're sure you know at least one), please keep reading! The goal of the Ready Washington #PlanYourPathWA student voices video contest is to amplify students' voices and motivate all students to think about their futures and consider the people and resources available to help. In these uncertain times, it's more important than ever to hear from students. For that reason, Ready Washington is running its contest with an extended deadline, which will be announced soon. Students can work on their projects at home and have extra time to submit.
To enter the contest, students need to record a brief video about your education dreams and how you're going to get there, then fill out this form available on the contest website. Five students will win a $500 scholarship. Winning students will also be able to nominate a teacher who has supported them on their path, who will receive a $100 Visa gift card. See judging criteria here. Please let the students in your life know about this contest!
---
FOLLOW US ON SOCIAL!
Are you following us on our social media platforms? If not, click below to stay engaged with the Core Plus Aerospace efforts!