It's been amazing to watch Core Plus Aerospace students and all of Washington's high school seniors graduate this spring. Through hard work and resilience these students have accomplished so much. We can't wait to see what they will do next!
Over the past month, the Boeing Workforce Development team has visited partner high schools and skills centers – including Lindbergh High School in Renton and Pierce County Skills Center in Puyallup – to celebrate Core Plus Aerospace students' accomplishments and extend job offers to select students ready to join Boeing after high school graduation!
"For students ready to join the workforce, there is a ton of opportunity for them in entry-level positions at Boeing," said Essentia Rivera,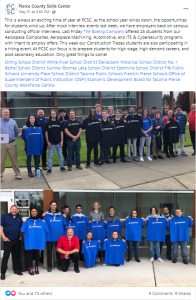 Manager, Workforce Development at Boeing. "These students are the next generation we need. Students can also choose also continue their education at a Boeing- partner community and technical college to continue to build their skills, and may qualify to come into Boeing at a higher pay grade."
At Boeing, these recent graduates will take on roles including, Aircraft Structures Mechanics, Assembler l Installers, In-Tank Aircraft Sealers, and more. Core Plus Aerospace graduates have a head start and have built transferable, in-demand skills that set them up for success in an entry-level job as well as in apprenticeships, college programs, or the military.
If you are a recent graduate or you know a recent graduate who is exploring their options for what to do next, please share with them our 2022 graduation tool kit webpage. It includes information on postsecondary programs and financial aid as well as links to help apply for entry-level jobs and plan an advanced manufacturing career.