About 30 students from across the state came together in Everett on February 23 for the SkillsUSA Manufacturing Assembler State Competition. Hosted by Boeing, the competition featured a hands-on project that tested students' knowledge and ability in skills common across all manufacturing industries, such as precision measurement and applied mathematics. Competitors also participated in mock interviews with Boeing employees and received real-time feedback. Scores for the hands-on project were combined with scores for the mock interviews to determine the winners.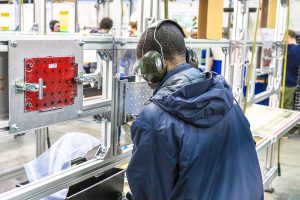 Congratulations to Moyaak "MuMu" Chuol from Lindbergh High School in Renton for taking first place in this year's contest. MuMu is a senior who has spent two years in the Core Plus Aerospace class.
Coming in second place was Tai Chase, a senior Core Plus Aerospace student at Sno-Isle TECH in Everett. Carlos Luis (SEATech Skills Center) and Paul McKenzie (Sno-Isle TECH) tied for third place.
"Boeing is proud to host this SkillsUSA competition and support the Core Plus Aerospace program," said Dan Parker, Workforce Development K-12 Lead at Boeing. "This competition – and the aerospace manufacturing classes these competitors have been taking all year – will give students a clear advantage when they apply for a job, an apprenticeship program, or college."
Parker added, "Last year Boeing hired more than 150 high school graduates who had taken Core Plus Aerospace classes, many of whom we met through SkillsUSA."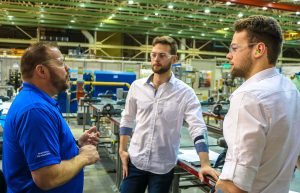 SkillsUSA is national career and technical service organization comprised of students, teachers, and industry professionals working together to ensure America has a skilled workforce. Initiatives like SkillsUSA and Core Plus Aerospace are especially important in Washington state, where a large share of our manufacturing workforce is ready to retire. There is a real concern that there won't be enough skilled workers in Washington to fill the many job openings that will be available. Core Plus Aerospace and SkillsUSA are helping to address that shortage and open the door to the next generation of manufacturing workers.
If you're a student or a parent and want to learn more about Core Plus Aerospace and competitions like SkillsUSA, talk to a guidance counselor or to your school or district's Career and Technical Education director. You also can use the location finder tool to find a Core Plus Aerospace class near you or sign up for email updates and be the first to learn when the program expands to new locations.