Summer High School Student Wins State Manufacturing Assembler Competition
Congratulations to the winners and all of the participants in this year's SkillsUSA WA Manufacturing Assembler Competition! Seventy students from 17 high schools and skills centers across the state participated in this year's competition at Boeing's Everett facility in mid-March. They competed in a hands-on project, mock interviews, and resume reviews. Top finishers include:
1st place: Brayden Terry, Sumner High School in the Sumner-Bonney Lake School District
2nd place: Madison Guy, Snohomish High School in the Snohomish School District
3rd place: Misael Oliveros Farias, Elma High School in the Elma School District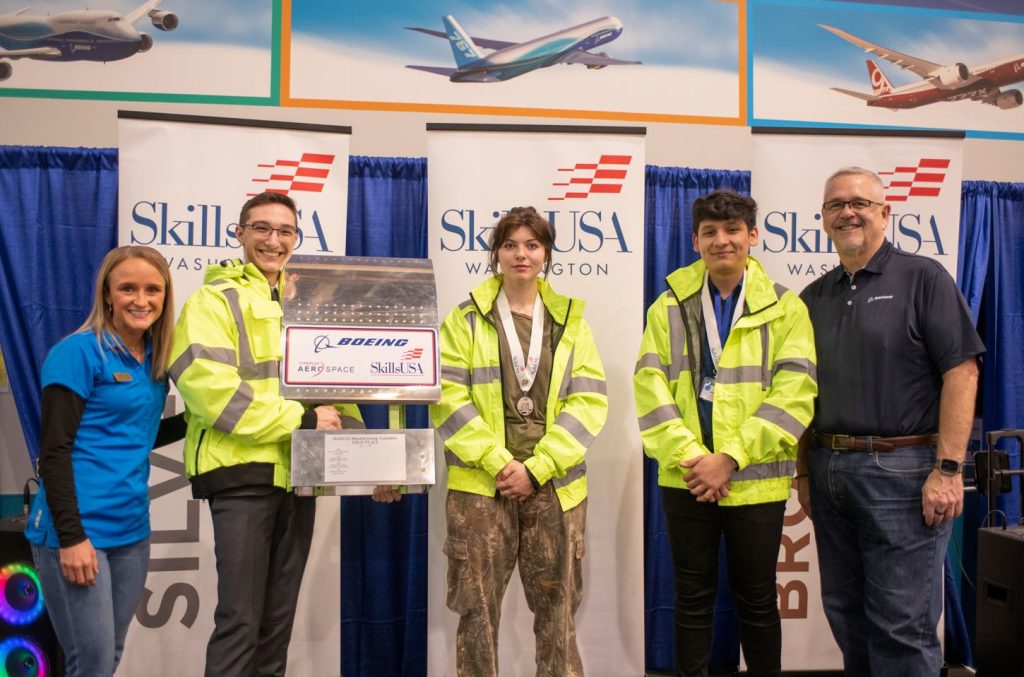 Open Now: 2023 Washington State STEM Signing Day Application
Do you know any high school seniors in Washington who plan to continue their STEM education at a two- or four-year college or university? Please encourage them to apply to participate in the 2023 Washington State STEM Signing Day!
Just like college signing days for athletes, this is a day for the next generation of STEM leaders to sign a letter of intent to pursue a STEM credential at a two- or four-year college or university. This year's event will be back in person, with students from across the state gathering at celebrations in Seattle and Moses Lake in late May. It's a great opportunity to harness our collective excitement for these students' futures and encourage their dreams!
To learn more and apply for the 2023 Washington State STEM Signing Day, please visit: https://tallo.com/wasigningday
CTE Director Shares How Core Plus Aerospace Prepares Walla Walla Students for Advanced Manufacturing Careers
Watch this video to hear from the CTE director of Walla Walla Public Schools about how Core Plus Aerospace and SEATech Skills Center are preparing students for incredible careers.
James Polson, a Core Plus Aerospace instructor, shares how students can find a lifelong interest through Core Plus Aerospace.
Nathanael Bennett, a graduate of Walla Walla Public Schools shares how the program prepared him for a career at Boeing.
Antonio Calcagni

shares why taking Core Plus Aerospace was one of the best decisions he's made.
Core Plus: Helping Students Find their Future
Our aerospace and advanced manufacturing team is proud to be a part of the Core Plus family of programs. In the Core Plus 2021-22 school year annual report you'll learn about success stories from Core Plus Aerospace, Construction and Maritime programs. Core Plus Aerospace highlights include stories about:
Lindbergh High School building advanced manufacturing champions.
Aviation Technical Services growing a local talent pipeline.
Three Core Plus Aerospace graduates turning their hands-on skills and experiences into careers.
ICYMI: Puyallup School District's Core Plus Aerospace Program is Preparing Students for Great Careers
Read in The News Tribune how the Puyallup School District is preparing students for apprenticeships, careers at Boeing and more with Core Plus Aerospace.
Resources: Help Students Find the Right Fit
This is the perfect time for students to explore Core Plus Aerospace as a part of their future coursework or post-high school pathway. Students can get more information and a jump start on their path to a well-paying and respected career with these resources:
An infographic about how students can plan their path in advanced manufacturing
Additionally, for students interested in taking their career exploration further: