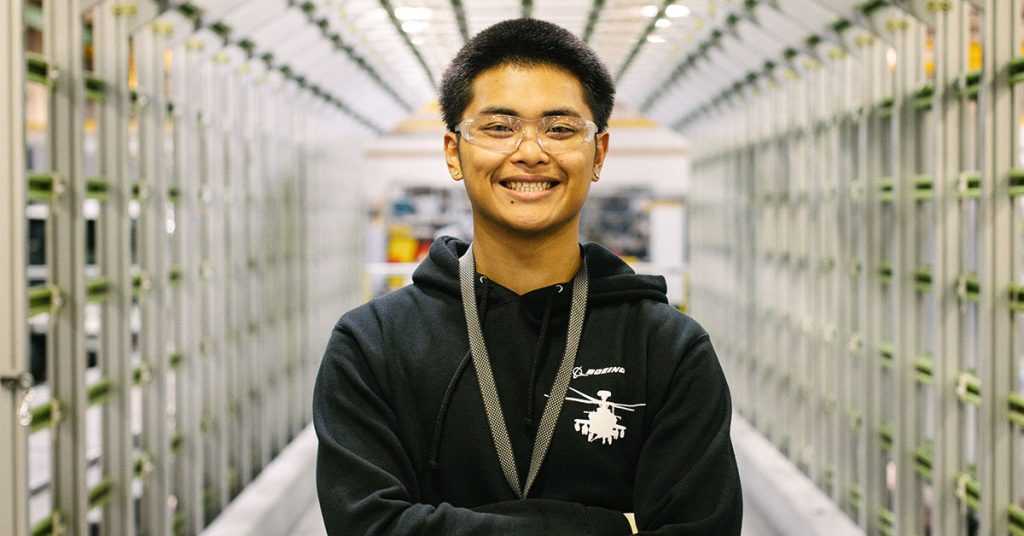 I am a person who learns by doing. My mom had a dream that I would work at Boeing, but given the challenges I faced in elementary and middle school, it seemed far-fetched. Then I got to Renton High School and my world opened up when I learned about Core Plus Aerospace, a hands-on learning, manufacturing curriculum.
Core Plus Aerospace students learn real-world skills in manufacturing. The two-year curriculum developed with industry leaders like Boeing, gives students the opportunity to take classes and gain hands-on experience while exploring potential careers with real job opportunities after high school.
I learned about Core Plus Aerospace when I was a freshman and always kept it in the back of my mind as a possibility. As a junior, I signed up for the class. Throughout the program, I learned that I could be self-sufficient and a leader. Now, as a senior, I help new students learn skills like how to use tools safely. I appreciate that the curriculum teaches manufacturing skills that I'll use in my career after high school, but also life skills. Communication, project management and work ethic are skills I use in activities like yearbook and wrestling now and will help me in my future. Core Plus Aerospace provides me the opportunity to learn in a way that makes sense for me and I'm thriving. It also helps students discover different career paths.
My Core Plus Aerospace teacher encouraged every eligible student to apply for the Boeing internship. I was one of the lucky ones selected. I spent five weeks working at the Boeing facility in Renton, learning from and shadowing Boeing trainers. I broadened my mechanical and electrical skills and gained real work experience. Throughout the internship, I worked with Jenelle Dalit, Boeing's internship coordinator. Like me, she is a Pacific Islander. Seeing someone who has the same ethnic background working at Boeing encouraged me. The instructors were also supportive and treated me as an equal. They taught me to be a professional and gave me advice on how to work with people and advance in my career.
After high school I plan to apply to be an electrical installer at Boeing. One day I want to be an aviation maintenance technician. My ultimate goal is to take care of my mom and sister, who support me and my dreams.
Core Plus Aerospace and the Boeing internship put me on a pathway to accomplish my career and life goals. I encourage students to take advantage of opportunities like the Boeing internship. I also hope more schools will offer Core Plus Aerospace, so more students learn the real-world skills that will give them a clear advantage in any pathway they choose after high school.
Jeric Liam is a senior at Renton High School in the Renton School District.
Note: This op-ed was originally featured in the Renton Reporter.