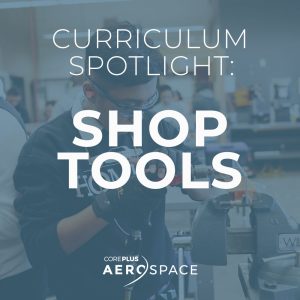 The Curriculum Spotlight series highlights a core instruction unit or skill set delivered through the industry-backed Core Plus Aerospace curriculum. Our new Spotlight on Shop Tools digs into why it's important, what students will learn, and how the curriculum connects to Washington state learning standards.
Through a variety of hands-on learning opportunities, Core Plus Aerospace students learn the proper use of hand and power tools. The curriculum focuses on developing fluency in tool selection as well as the English and metric systems of measurement. Students are continuously challenged to evaluate and determine what units of measurement to use and what factors go into selecting the appropriate tool for a specific task or project. Building these skills while still in high school gives Core Plus Aerospace students an advantage as they pursue post-high school opportunities, such as certificate and degree programs, apprenticeships, or a manufacturing job.
Here's a preview of the new Curriculum Spotlight (link to PDF):
Core Plus Aerospace introduces students to the basic hand and power tools used in the workplace. Students will identify basic manufacturing tasks that hand tools, portable power tools, and installed power shop equipment and machinery may be used to accomplish. Students will have opportunity to skill up on common power shop equipment such as the drill press, disk sander, belt sander, pedestal grinder, ban saw, and manual foot shear. They also will become familiar with safety considerations, normal operating techniques, and common tool applications.
Learn more by downloading the Curriculum Spotlight: Shop Tools resource. Sign up to receive our emails to get more Curriculum Spotlights in the months to come, or check them out on our Resources page. Follow us on Facebook, Twitter, and Instagram, and engage with us on social media using #CorePlusAerospace.