The Curriculum Spotlight series highlights a core instruction unit or skill set delivered through the Core Plus Aerospace curriculum. Our Spotlight on Precision Measurement digs into why it's important, what students will learn, and how the curriculum connects to Washington state learning standards.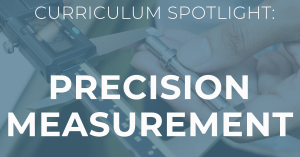 Precision measurement skills are crucial to manufacturing accuracy and quality as well as product reliability and performance. Skilled manufacturing workers must know how to define a part's features and properly use precision measurement tools. The Core Plus Aerospace curriculum provides Washington students with hands-on opportunities to lock in those skills while they are in high school, giving them a leg up on any number of opportunities after graduation, such as pursuing a manufacturing job, apprenticeship, or college.
Here's a preview of the new Curriculum Spotlight (link to PDF):
Students learn to correctly name a measurement value and gain hands-on experience measuring and caring for semi-precision measurement tools. Students are introduced to the concept of geometric dimensioning and tolerancing, using symbols to define a part's features.
Learn more by downloading the Curriculum Spotlight: Precision Measurement resource. Sign up to receive our emails to get more Curriculum Spotlights in the months to come, or check them out on our Resources page. Follow us on Facebook, Twitter, and Instagram, and engage with us on social media using #CorePlusAerospace.