This editorial was written by Chris Nesmith, director of innovation for the West Valley School District in Yakima. It was first published in the Yakima Herald on Saturday, May 18, 2019.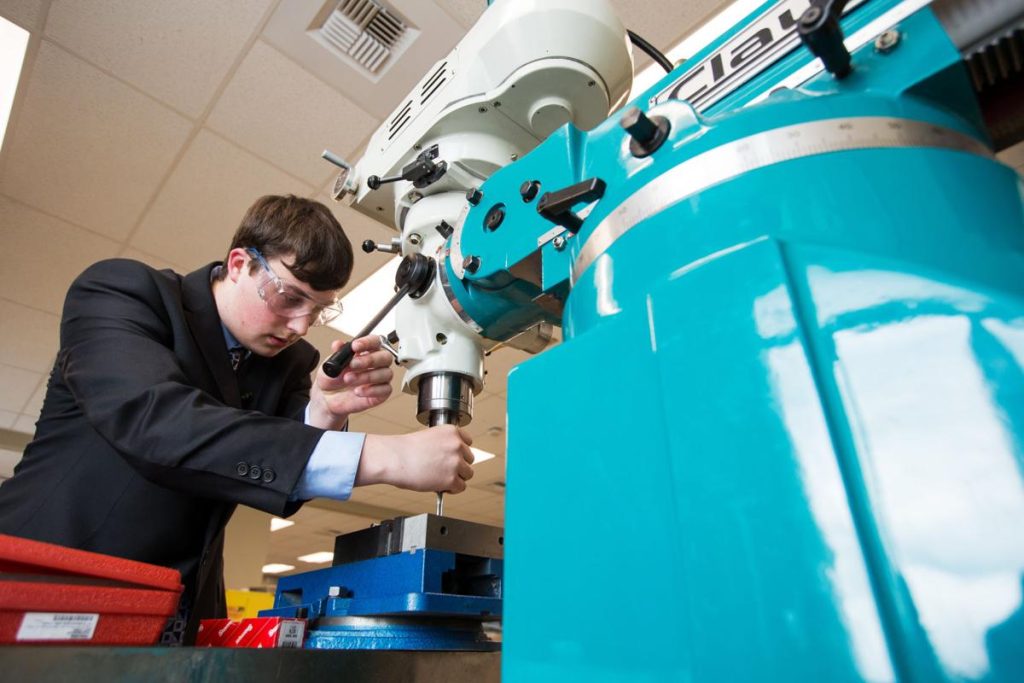 Spring is here and, with graduation on the horizon, students across our region are likely thinking about the future. The good news: There is overwhelming demand for skilled workers in a wide array of industries such as manufacturing, construction and professional trades, nursing, and information technology. Our goal at the West Valley School District is to ensure our students have an opportunity to prepare for such options.
I'm particularly excited by the work our district is doing to help West Valley students explore and prepare for potential careers in manufacturing. There are nearly 300,000 manufacturing jobs in Washington and a large percentage of that workforce is retirement-ready. The door is opening to the next generation of workers. We want to make sure our West Valley students have an opportunity to explore this industry and gain the skills they need to be successful — before they graduate from high school. We are doing it in part through Core Plus Aerospace, a manufacturing curriculum developed and supported by Boeing.
Core Plus Aerospace begins with foundational skills common across all manufacturing industries, such as shop safety, materials science, precision measurement and the use of hand and power tools. As students dig deeper into the curriculum, they can gain exposure to aerospace-specific content in areas such as fiber optics, advanced composites, robotics, and more.
Preparation and exploration start in our middle school, where we have integrated the applied math and science concepts of Core Plus Aerospace into our seventh- and eighth-grade curricula. In addition to building theoretical knowledge, students are developing fluency through hands-on learning, applied processes and procedures. For example, seventh-graders at West Valley Middle School are taking AMPED (Algebra 1 in Manufacturing Processes, Entrepreneurship and Design) where they are learning how algebra skills are used in the manufacturing industry. Our eighth-graders are learning about material sciences and green energy.
We've further incorporated the Core Plus Aerospace manufacturing curriculum into our machining classes at West Valley High School, where students can earn multiple credits toward graduation in English, math, science, and/or career and technical education (CTE).
In Tim Sorenson's Machining class, students gain experience with precision machining, even taking first, second and third places at Washington State Skills USA championships. They are also learning real-world skills needed in any career, including teamwork, responsibility and accountability. Stevan Sanchez is one of those students. He is an apprentice in the West Valley Futures program and will complete his second year of Core Plus Aerospace this year. Through Core Plus Aerospace, Stevan is learning new skills every day that will help him reach his career goal of being a mechanical engineer. Stevan is also getting workplace experience through a paid registered apprenticeship at Pexco Aerospace through AJAC (Aerospace Joint Apprenticeship Committee), in which Core Plus Aerospace is the foundation.
Our machining and manufacturing students are in demand. Many are pursuing internships and will have the opportunity to interview with prospective employers statewide before graduation. They could have job offers waiting the day they earn their diplomas. They also graduate ready for apprenticeships, college programs or the military.
I encourage parents and students to explore CTE programs and curricula like Core Plus Aerospace and urge policymakers and educators to come see one of our classrooms. You'll come away energized by the impact of hands-on learning and the reward of truly preparing students for great career opportunities.