Note: This op-ed was originally published in The Seattle Medium. 
---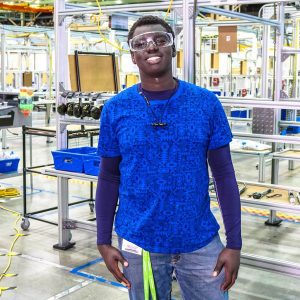 By Moyaak "MuMu" Chuol
Lindbergh High School, Class of 2019
Growing up, I enjoyed building things and wanted to go into construction. I also was really interested in NASA and space. The question was, how could I explore both?
My friend's brother was a top student in his manufacturing class at Lindbergh High School in Renton. He told me about Core Plus Aerospace, a manufacturing curriculum they were using that seemed to offer the best of both of worlds. He could explore aerospace concepts through hands-on learning, learn the basics of manufacturing, and prepare for a real career. I was sold.
I enrolled in the Aerospace/Advanced Manufacturing Program at Lindbergh as a junior and got my first taste of Core Plus Aerospace in Mr. Nelson's class. That first year we focused on skills like precision measurement and shop safety – things that were common to all manufacturing industries. I also got to dig into materials science and learn how to read complex designs. It was fun and challenging.
I was also able to use skills I learned in Mr. Nelson's class like precision measurement and the use of power tools to design and build things that help support my school. For example, the student store needed new shelves, which I designed from scratch and worked with a team of 10 other students to build by drilling and fastening metal posts to wood planks.
Thanks to Mr. Nelson and Core Plus Aerospace, I've been able to tour local companies and I was one of 15 students selected statewide last year to participate in Boeing's Core Plus Aerospace summer internship program. Another 30 students will get to spend part of their summers at Boeing this year, learning from their trainers and experiencing what it's like to be part of a team working on the manufacturing floor.
I was also able to compete in the SkillsUSA Assembler Competition this year. That event put my manufacturing skills to the test. It required a lot of practice, but I'm proud to say I won and was honored when my principal and teacher acknowledge that success with a trophy presentation and all-school assembly.
These classes opened a world of opportunity to me. Students in programs like mine interview for and accept manufacturing jobs straight out of high school. Some of those manufacturers, like Boeing, will pay for college once you're employed. Graduates from our program are also ready to pursue apprenticeships, industry certificates and college degrees. The key is that we are graduating with options and we have the freedom to choose what we want to do next.
My advanced manufacturing classes, and specifically the Core Plus Aerospace curriculum, opened my eyes to what I can do. I know where I'm headed. My future is solid. I hope more students get the opportunity to participate in programs like the one at Lindbergh and that they too can graduate confident and ready for takeoff.