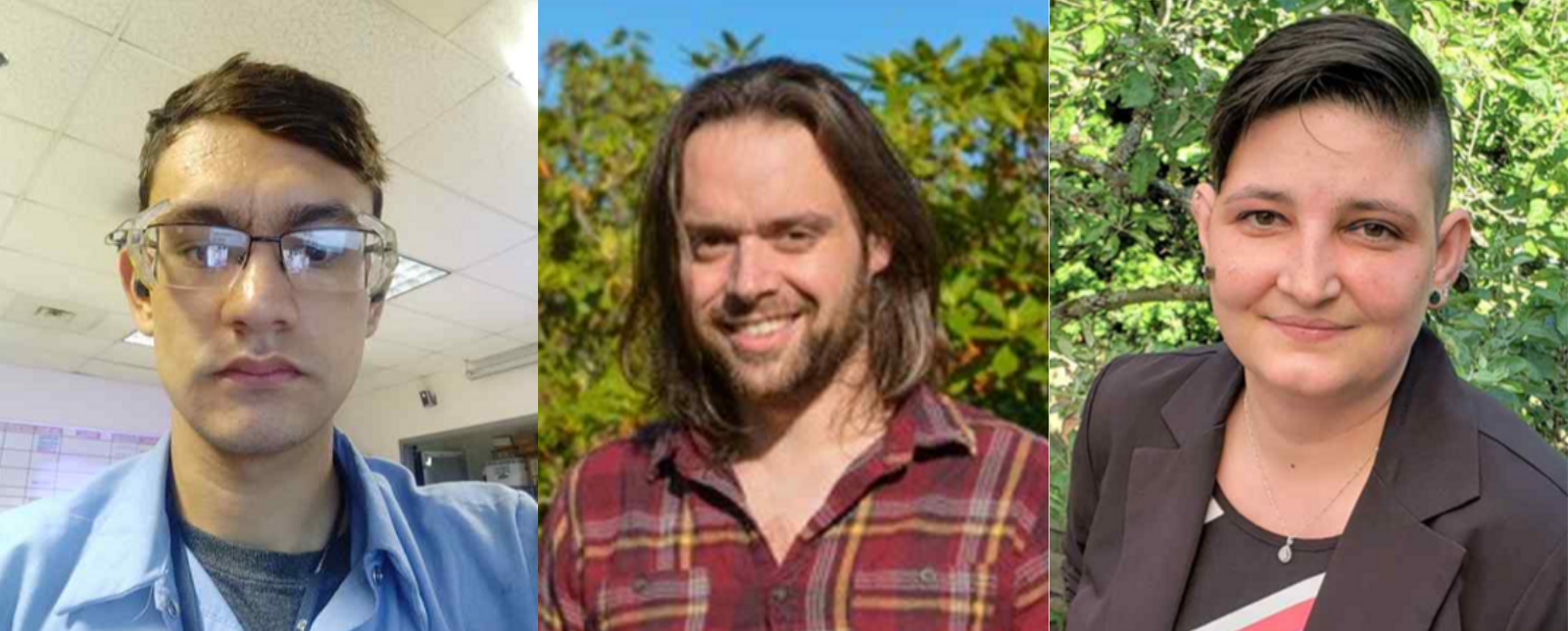 Boeing Workforce Development hosted several virtual "Manufacturing Lunch and Learns" this fall for students and instructors at partner academic programs, including Core Plus Aerospace. We are excited to share a link to that recording and some highlights from the session below.
Students interested in the growing field of mechatronics received career insights and advice from three Boeing employees whose daily tasks involve working with robotic systems, troubleshooting and repairing machines, and conducting preventative maintenance. The webinar offers valuable insights for high school and community/technical college students interested in mechatronics, including career development advice from early and mid-career professionals, detail on key skills in this field, and information on various training pathways.
Nathan Bariel graduated from a Boeing-partner high school program at the Pierce County Skills Center, where he worked with machine tools, riveting, and sheet metal. After completing the Boeing Facilities Internship in 2017, Bariel applied and began his Boeing career two years ago as a Mechatronics Maintenance Mechanic, Grade 6. Bariel is now a Maintenance Mechanic, Grade 9, at Boeing
Adam Birdsall worked for 10 years as an industry specialty machinist prior to joining Boeing three years ago. With an interest in robotics integration and large-scale manufacturing, Birdsall decided to build on his skills and graduated from the Mechatronics program at Shoreline Community College, where he learned more about manufacturing career opportunities and gained an in-depth understanding of mechanical and electrical systems. Birdsall is now a Precision Maintenance Electronics Technician, Grade 10, at Boeing, working with Siemens robotics, Kuka robots, and CNC drillers.
Lindsey Roby was hired at Boeing 13 years ago as a production heavy structures mechanic. Later, Roby moved to robotics development and worked as a machine repair mechanic. In her current role as Equipment Services Manager, Roby oversees mechanics, technicians, electricians, and more. Roby enjoys helping employees develop their skills and supporting their career development. "Take pride in the job you're doing," Roby said. "It really shows the people you're working with that you're serious and you do want to grow."
What skills are necessary for success in mechatronics?
At Boeing-partnered high schools and community and technical college programs, Washington students are learning industry-backed skills they need to succeed on the shop floor.
Employees who come from these partner programs arrive with knowledge of manufacturing fundamentals and hands-on experience, Roby said.
Panelists agreed that key skills include understanding electrical and mechanical fundamentals, knowing how to use hand tools, and a familiarity with machines such as CNC routers.
"If you can take stuff apart and be able to put it back together, those are great things to be able to do," Birdsall said. "I think that's probably the most important thing – to feel comfortable using wrenches, sockets, and screwdrivers."
Other important traits include a willingness to learn and being a team player. Boeing's Workforce Development Team encouraged students to create or update their resumes, know how to describe their hands-on skills and expertise, research Boeing-partnered community and technical colleges where they can  continue building skills, and learn about industry employers in the area.
Advice for students interested in this career pathway?
Panelists recommended students get involved in after-school activities like robotics, research and apply for internships, and work on personal projects that demonstrate their passion, commitment and dedication – from repairing an engine to building a robot.
A recording of the webinar is available here.