This story is featured in the new Core Plus annual report. In the Core Plus 2021-22 school year annual report you'll learn about success stories from Core Plus aerospace, construction and maritime programs across Washington state.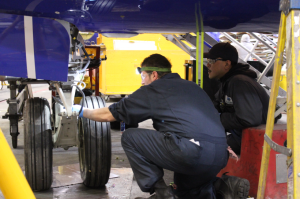 The need for workers with advanced manufacturing skills is growing, which means incredible opportunities in Washington state. Partnerships between the manufacturing industry and local high schools and skill centers open doors for students in aerospace.
Aviation Technical Services (ATS) with locations in Everett, Moses Lake and nationally, has developed a partnership with Sno-Isle TECH Skills Center in Everett to provide students opportunities to explore aviation maintenance careers, learn, and use their hands-on skills.
"There is an ongoing need in aviation for graduates with advanced manufacturing skills," said Seth Jacobsen from ATS. "The industry has the capacity to grow and provide great career paths for graduates with these technical abilities. ATS is proud to have strong connections with Sno-Isle Tech and other local partners to help build a successful workforce."
ATS is the largest third-party, single-site transport aircraft maintenance, repair and overhaul provider in North America and one of the largest aerospace employers in Washington state. Along with its partnership with Sno-Isle TECH, ATS supports Everett Community College's (EvCC) Aviation Maintenance Technology program.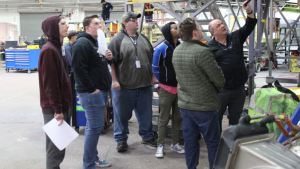 ATS previously donated a 767 rudder and performed work on an EvCC helicopter and airplane. ATS has hired Core Plus Aerospace graduates straight out of high school and offers continuing training via its own apprenticeship program. Upon completion, ATS apprentices may choose to work toward certification as an FAA Certificated Repairman or Mechanic. ATS has hired over 100 apprentice mechanics so far this year and expects to continue on this trajectory in the coming months. Many of these new apprentices are graduates of Sno-Isle's Core Plus Aerospace program. Sno-Isle graduates are a perfect fit for many apprentice mechanic positions that ATS is looking to fill because they are taught practical, hands-on skills that are immediately useful on the job.
"It (the Sno-Isle Aviation Course) is grounded well in what we do here at ATS," said Jonas Brimhall, a recent graduate who works at ATS. "The class is a really professional setting. It's less like a high school class and more like a work environment."
ATS and the local education community are helping students visualize their futures, learn advanced manufacturing skills by doing and land well-respected careers.