This story is featured in the new Core Plus annual report. In the Core Plus 2021-22 school year annual report you'll learn about success stories from Core Plus aerospace, construction and maritime programs across Washington state.
The Renton School District produces champions. The past three champions of the SkillsUSA Washington Manufacturing Assembler Competition have been Renton School District students. Two are from Lindbergh High School in Renton.
Hosted by Boeing, the statewide competition features a hands-on assembly project that tests the skills students learn in the Core Plus Aerospace curriculum, such as drilling, riveting and print reading. Competitors also participate in resume reviews and mock interviews.
"My Core Plus Aerospace class was very helpful in exploring a career," said Jasmine Lehal, the winner of the 2022 SkillsUSA competition and a 2022 graduate of Lindbergh High School. "I got to work hands-on and learn skills that allow me to work in many different fields. It's a great opportunity!"
Moyaak "MuMu" Chuol, a 2019 graduate of Lindbergh High School and the winner of the SkillsUSA competition in 2019, said that his Core Plus Aerospace class at Lindbergh High School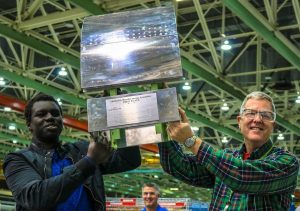 opened his eyes to what he can do.
"Core Plus Aerospace graduates are ready to pursue apprenticeships, industry certificates, college degrees and more," Moyaak said. "The Core Plus Aerospace class at Lindbergh High School motivated me and equipped me with the knowledge to graduate with options and prepared me for a career I enjoy."
Both Jasmine and Moyaak also completed the Core Plus Aerospace summer internship and were hired by Boeing after graduating high school. Along with both being champions, graduates of Lindbergh and Boeing employees, Jasmine and Moyaak were taught by Creed Nelson. Creed was one of the first instructors to use the Core Plus Aerospace curriculum and is a valuable resource in helping shape the curriculum and promoting it in the Renton community. At the end of the 2021-22 school year, Jasmine and three more students from Creed's class were celebrated at an event at Lindbergh High School after being extended job offers to join Boeing.
"The skills I learned in Mr. Nelson's class, like interviewing, hands-on and communications skills, will help me reach my career goals", Jasmine said. "I'm grateful for Mr. Nelson's Core Plus Aerospace class that taught me skills I'll use throughout my life. I encourage students to take Core Plus classes because they help you find a career that interests you."