By Sean Lochrie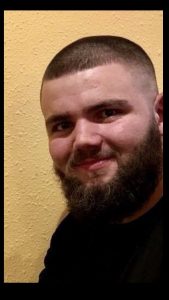 Inspiration for a career can be sparked in many places.
My inspiration and love for manufacturing came from building projects with my grandfather. What helped me turn that inspiration into a career was Core Plus Aerospace.
Core Plus Aerospace is a manufacturing curriculum that teaches students real-world skills while in high school. The two-year curriculum, developed in partnership with Boeing, gives high school students more options after graduation, opening the door to high-demand manufacturing jobs, apprenticeships, and college programs.
I first learned about Core Plus Aerospace through a two-week summer program at NEWTech Skills Center. Students had the opportunity to try out classes that interested them. I was drawn to Core Plus Aerospace because of the experiences I had with my grandfather.
In class at Shadle Park High School I designed and built projects with the help of my teachers and classmates. In addition to learning manufacturing skills like blueprint reading and how to use tools correctly, I learned skills like teamwork, communication and how to ask good questions. The hands-on learning style of the class was engaging and allowed me to get out of my seat, learn by doing, and take my ideas from concept to reality. I could see students in my class discovering a new interest and a love for manufacturing just as I did.
My teacher, Mr. Anselmo, did a great job of communicating the many opportunities that we could pursue after graduation. He talked about high-demand, good-paying jobs; college tracks; and apprenticeships. He took us to job sites and did everything possible to give us a feel for what a career in the manufacturing industry would look like. And, when the opportunity came to interview for jobs, I was more than ready to sell the skills and knowledge I learned in his class.
After graduation I accepted an offer to work at Boeing in Spokane. Every day I use a skill I learned in Mr. Anselmo's class. I see how each skill builds on another. Mr. Anselmo gave me a head start. And now I have a career I love.
I'm also considering continuing my education to expand my career options through Boeing's Learning Together Program. Boeing will pay for tuition and any related expenses — including application fees, entrance exams, books, and graduate fees — for employees enrolled in accredited colleges, universities or trade schools.
I encourage students who are trying to find their pathway after high school to talk to their teachers and guidance counselors as early as possible. They can help you find the classes that will help you explore your interests and prepare you for what comes next. I also encourage students to take the initiative to find opportunities in their ommunity that interest them. You might find something you are good at, just like I did. Through Core Plus Aerospace, I turned a passion that started at my grandfather's house into job at Boeing and any number of options for the future. That's the kind of jump start every student should have.
Sean Lochrie is an In Tank Mechanic at the Boeing Company. He's also a graduate of Shadle Park High School.
This op-ed originally was featured in the Spokesman-Review