We're pleased to share with you content from this month's Core Plus Aerospace Newsletter. If you're interested in subscribing to updates, click here, and enter your information.
---
 GET READY FOR 2020! THE CORE PLUS AEROSPACE INTERNSHIP IS COMING!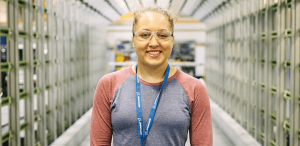 The application window for the Summer 2020 Core Plus Aerospace Internship is around the corner! Hosted by The Boeing Company, this paid internship last five weeks and consists of full-time work at Boeing's Everett or Renton facilities. High school interns will learn directly from Boeing trainers and early career professionals, building a foundation for successful entry into manufacturing careers and college programs in fields like avionics, applied science, engineering, mechatronics, and more. We hope students will apply and take advantage of this opportunity to explore an exciting industry, take their skills to the next level, and build their resumes with real-world experience. Click here to access and share resources. The application window opens January 2!
---
TOP 5 STORIES FROM 2019
This year had it all – new money, amazing students, interactive classrooms and dedicated teachers! So many great stories came out of our Core Plus Aerospace community this year. We couldn't help but want to compile a greatest hits list in celebration of the students and teachers working everyday to explore and build great things together. What story caught your fancy in 2019? Here's a look at our top 5…
The Legislature doubled down in support of Core Plus Aerospace,

providing $900,000 a year in competitive grants for schools to maintain or start new programs. New funding was also available to support the future launch of Core Plus Construction and Maritime programs, or a total of $1.35 million per year. All told, 82 schools applied for funding (including 43 schools applying for aerospace funds!). That's up from 29 schools that applied for grants last school year. We're thrilled to see this level of excitement as it helps 

meet the demand from parents and students.

Grant awards should be announced by the end of the year. Want to know where Core Plus Aerospace is available or options in your district? 

Check out our Location Finder.
Lindbergh High School Student Moyaak "MuMu" Chuol took home the top prize in the 2019 Skills USA Assembler Competition. Coming in second place was Tai Chase, a senior Core Plus Aerospace student at Sno-Isle TECH in Everett. Carlos Luis (SEATech Skills Center) and Paul McKenzie (Sno-Isle TECH) tied for third place. Check out this video for a great recap of the competition in action. You can also watch this video to hear from Mumu and his high school principal, Hkwau'a'Que'Jol 'Q' Hollins, or read a first-hand account from Mumu in this Seattle Medium story.
Options High School Teacher Jared Greenwood gave us a peek inside his classroom and shared his motivation for coming to work every day, "It's great to see students step out of their comfort zone and try a machine that they've never used before and try to build something. Whatever a student puts into this class is what they'll get out of it." Check out Jared's column published in The Bellingham Herald.
Franklin Pierce High School Teacher Jeffrey Kurbis broke down how important it is to deliver math in a way that is relevant and applicable, and how it excites him to see students' math skills come alive through hands-on learning. In a newsletter article for OSPI he writes, "As educators, we have to instill that math is not just calculating an answer but guaranteeing the outcome will be more successful and the process will be worth it." As a reminder, OSPI has approved the Core Plus Aerospace curriculum for equivalency credit in English, science, and third year math. Read on! 
Core Plus Aerospace instructors, old and new, met throughout the year to engage in hands-on professional development, brainstorm, and build partnership with industry. Check out one of those trainings in this video showcasing veteran instructors. Follow us on social media or reach out to OSPI's CTE team to learn about professional development opportunities in 2020!
Check out our News feed to hear more from students, teachers, and industry leaders throughout the year!
---
FOLLOW US ON SOCIAL!
Are you following us on our social media platforms? If not, click below to stay engaged with the Core Plus Aerospace efforts!