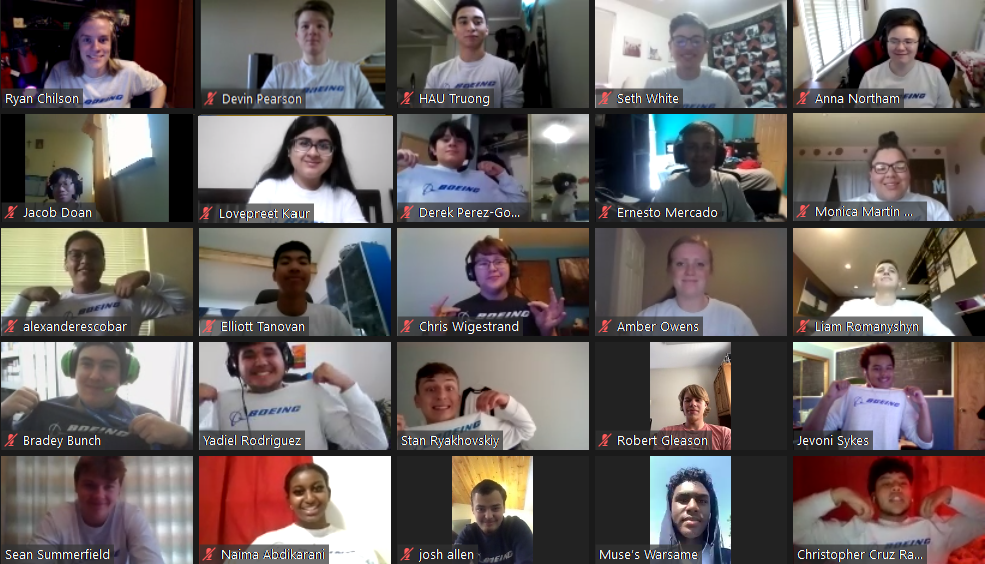 The Core Plus Aerospace high school internship, hosted by Boeing, went virtual this summer in response to the coronavirus pandemic. While we were sad not to see these students in person, we were thrilled at the opportunity to see them demonstrate their creativity and real world manufacturing skills via the Virtual Safety and Quality Innovation Challenge on July 31.  The challenge culminated the three-week virtual internship and there's no doubt the ideas they generated can be used once they are back in their classrooms, or to support distance learning this fall. 
The students were tasked with finding solutions to real-world problems within their schools and Career and Technical Education classrooms. Eight teams of interns from more than 20 high schools and skill centers developed ideas to encourage appropriate use of hearing protection, ensure a clean classroom environment, keep track of classroom inventory, address bullying, promote proper and safe tool use, and more.
Each student team had five minutes to pitch their innovations to a panel of judges from Boeing, the Office of Superintendent of Public Instruction, and the Washington State Board for Community and Technical Colleges. Their solutions included installing a decibel reader and a central vacuum system, devising a system to keep track of classroom inventory, using a smart button to deter bullying, and creating instructional videos that demonstrate proper tool use.
Read on to learn more about the top three projects – chosen based on the student presentations and the implementation guide each team created for educators.
Derek Perez-Gomez (Franklin Pierce High School), Chris Wigestrand (Hazen High School), and Elliott Tanovan (Options High School) tackled a major safety problem: foreign object debris (FOD) in the classroom. FOD presents a real hazard in the manufacturing environment as it could contaminate the product, undermine quality, or create a safety concern. This team created a template for an easily accessible tray that could hold a student's tools and discarded items and be emptied at the end of the day. Students could assemble their own trays, using cardboard or sheet metal, as a hands-on learning project, and personalize them to promote personal connection. The team believes such trays would help make classrooms cleaner and safer, teach students better habits, and reduce teachers' stress.
Since some students and workers experience discomfort and/or allergic reactions to certain materials in protective gloves, Lovepreet Kaur (Sno-Isle Tech Skill Center), Monica Martin Malagon (Lindbergh High School), and Ernesto Mercado (Pierce County Skills Center) came up with a solution: a durable, multi-purpose cotton liner that covers skin to prevent glove contact. Schools could implement an after-school club that offers community service hours to students who create the gloves. The students believe their innovation would decrease skin irritation during hands-on projects, engage a larger audience to participate in manufacturing activities, and help people understand the importance of inclusive personal protective equipment.
Jacob Doan (Renton High School), Jevoni Sykes (Enumclaw High School), and Hau Truong (Seattle Skills Center) pitched an improvement idea for desktop CNC routers in schools – which often arrive from the factory without protective measures like splash guards. This means fluid created by the process of machining could spill onto the ground. Their solution is using a compact vacuum attachment that would contain these materials, increasing workshop safety. The team designed and 3D printed an attachment that could be created by students in the classroom, either by machining or with a 3D printer. This low-cost innovation is relevant to numerous schools that purchase CNC machines.
Students said they appreciated their supportive mentors, the sense of purpose the internship provided, and their projects that focused on safety and quality practices.
"Safety is now at the forefront of my thought process," said Sykes. "It has an increased prevalence in my mind. There's always ways to improve it."
"It's a bigger concern than we thought," added intern Ryan Chilson (Spokane Valley Tech Skills Center).
Judges praised the students' preparedness, knowledge on their topics, and ability to make a case for their innovations.
"I was really impressed with your overall presentations and ability to transition and feel like a team presenting together," said Angie Mason-Smith, Core Plus project coordinator for the Office of Superintendent of Public Instruction. "You could see your passion in your presentations."
Boeing adapted the annual Core Plus Aerospace internship to be 100% virtual this summer. This year's intern class included 25 rising seniors from high schools across Washington state. The Boeing team adapted in-shop activities that teach sealing and electrical assembly skills to create projects that students could complete at home and present virtually. Students also built employability skills by learning how to communicate with a team, effectively manage their time, and market themselves by outlining their skills, experience, and interests on a Student Snapshot resume card and through the creation of "elevator pitch" videos.
"The class of 2020 has faced some unique challenges," said Michelle Burreson, Boeing senior manager of workforce development. "You have all really stepped up to this virtual environment and given it your all."
"We're all really proud of you," said Tia Rivera of Boeing's workforce development team. "Every single one of you has shown growth, development, and capability."